Name reservation is the first step in Company formation. There are two methods to reserve name on the website of the Ministry of Corporate Affairs (MCA). This article tries to explain the procedure for the same:
RuN Form – This is a standalone form for reservation of name. You need to select the option for new Company. You can apply for max 2 names and mention significance of the proposed names. Further, the names have to be as per the Companies (Incorporation) Rules specifically Rules 8 ,8A, 8B and Rule 9.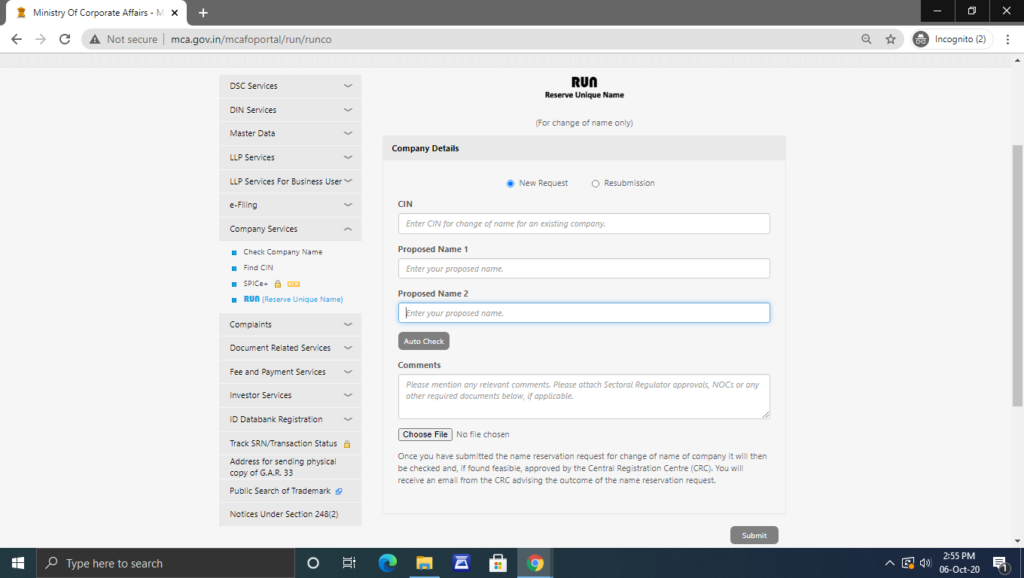 This is the Run form. You have to click on ' The Auto Check' which will give a preliminary system based check on the same.
Attachments like trade mark application, no consent letters or resolutions from other Company having names similar to the proposed names may be attached.
Fees for the Run form is Rs. 1000/-.
Any name approved is valid for 15 days from the date of approval.
2. Second method is to apply for reservation of name directly while filling the form for incorporation i.e. Spice plus. In this option, the process of name reservation and incorporation get completed in one stage together.
But exercise this option only when you are very confident of the proposed name being approved.